Be the Strong, Confident, and Caring Woman You Were Meant to Be
Tired of doing all you can for others while your relationships remain stuck in neutral--or headed in reverse? Paul Coughlin and psychologist Jennifer Degler show how being nice can harm you and drain the life out of your relationships. They explore the keys to fulfillment at home, work, church, and even in the bedroom. You'll discover that emulating the real Jesus is the key to transforming from a Christian Nice Girl into an authentic, powerful woman of loving faith.
Purchase No More Christian Nice Girl here. Only $15.00. By purchasing your resources through Coughlin Ministries, you help others receive life-changing insights that create hope for life. Donations to Coughlin Ministries are now available through PayPal.
---
Schedule Paul Today


WELCOME TO
PAUL COUGHLIN'S
WEBSITE.
Paul offers several conferences now.

Download Paul Coughlin's conferences flyer here that includes information about each conference as well as a short bio about Paul along with endorsements.

From parenting seminars to talks exclusively for men, Paul Coughlin delivers wisdom with sincerity that will electrify any church body.

From retreats to special gatherings, Paul can tailor a message to fit any audience, and with his collection of stories and real-life testimonies, he will keep your crowd entertained as he educates them on a multitude of topics.

From his best-seller No More Christian Nice Guy, to his book co-written with his wife, Married but not Engaged, as well as his offerings for parents, No More Jellyfish, Chickens, or Wimps and The Protectors, Paul can bring the same insight that has left audiences from Focus on the Family to the local church better equipped to live stronger and more loving lives.

For more information on scheduling Paul at your upoming event or church, please email >, or go to https://paulcoughlin.net/engagements/
Paul provides five life-changing conferences:
Men Taking Hills: Unleashing Courageous & Loving Faith In a Timid and Loveless World.
This one-day to two-day event shows men the hidden power of the male soul, home of thumos--the source of animation, spiritedness, courage, boldness, righteousness and more. Provocative, humorous, and insightful, this conference is ideal for church men, the un-churched and de-churched. Based upon the upcoming book, Unleashing Courageous Faith.
Men Behaving 'Badly': Stop Being Nice & Start Being Good.
A one-day to two-day event, ideal for men's retreats and breakfasts, where men
learn to discard fake niceness and embrace genuine goodness, and become more faithful, courageous, loving and protective. Based upon the best-selling book, No More Christian Nice Guy.
Cupid, Couples (and Singles): How To Be Married AND Engaged.
A one- day conference for couples where honesty, integrity, respect and
intimacy replace common problems, such as pervasive passivity, that
make us married but not engaged. Also ideal for singles, who some day
will be married and who are one of the most disenfranchised groups in
church today. See Paul's book, Marrried but not Engaged.
The Parent Trap: Raising Secure & Assertive Kids in a Tough World.
Too many Christian parents are raising spiritual veal: children who are weak and compliant instead of bold, truthful and assertive, the true character of Jesus. Learn about the common and well-intentioned traps that create timid children--the number one target of bullies--and solutions to creating children with integrity instead. Be sure to read Paul's book, No More Jellyfish, Chicken's or Wimps.
The Protectors Summit: Spreading God's Love & Justice Into the Theater of Bullying.
Paul helps bring God's love, mercy and justice to the world of adolescent bullying through these life-changing conferences based upon his six-lesson Protectors curriculum. Ideal for Sunday Schools, private schools, and even public schools when Paul provides a modified version of his unique and liberating message. For more information, visit The Protectors website.
Exclusive Website Offer:
Get a signed copy of No More Christian Nice Guy,
Married But Not Engaged and No More Jellyfish, Chickens or Wimps
for only $35 plus $7.50 for shipping ( Total of $42.50 )
Group discounts available. Click here for more information.
Paul Coughlin provides life-changing conference presentations and workshops, which help men understand and overcome this unique problem that few others address. His workshops are designed for large and small groups, and his conference presentations are educational and entertaining. Men do not like long sermons or presentations, so Paul makes sure to keep his information both powerful and concise. Each conference presentation includes thought-provoking images and ends with a dynamic question and answer session.
To schedule Paul to speak at your next men's conference or related activity, email him . Says Paul, "At every men's conference I talk with men who are either divorced or separated due to the Christian Nice Guy problem. Let me help your men understand and overcome this frustrated problem with a message that no one else is providing."
What others are saying:
——— New York Times says ———
No More Christian Nice Guy is part of
"a contrarian movement ... [where] thousands of Christian men are reaching for more forceful, more rugged expressions of their faith."
——— Dr. James Dobson ———
Host | Focus on the Family radio broadcast
"You did an outstanding job expounding on the unique challenges today's Christian men face as they strive to be godly husbands, and I'm confident our listeners will benefit from your insightful perspective on marriage."
——— Focus on the Family ———
New Zealand
"Paul's writing are keys to unlocking and
freeing us from the 'Jellyfish for Jesus' mentality that is binding up so many Christian men and their families."
——— Dr. Laura Schlessinger ———
"No More Christian Nice guy is a fabulous book. It's so clever, it will jumpstart you guys--Christian or not."
——— Kenny Luck ———
Men's Pastor | Saddleback Church, California
Founder and President of Every Man Ministries
"I'm not going to hide my enthusiasm today. Wow, Paul Coughlin! He's amazing. I'm honored to be speaking with him today. Paul has a prophetic message for men. I'm a big fan. He talks about the martial spirit, about the 'thumos' of men, about moving men from being nice to dangerous and good in the image of Jesus Christ. You have to hear this guy."
——— Emerson Eggerichs, Ph.D. ———
"Paul is challenging our thinking about what it means
to be God's man in the twenty-first century.
No More Christian Nice Guy is his excellent answer."
——— Pastor Greg Pechacek ———
Lake City Church
"I thank God for the things He did in so many of our lives through you. Numerous men have already shared with me
how God has dramatically ministered to them
through your message."
——— Library Journal ———
Regarding the book - Married But Not Engaged
"Coughlin (No More Christian Nice Guy) and his wife, Sandy, have put together this empathetic guide to help women understand the inner lives of their emotionally absent men and facilitate change...While the authors use biblical texts to illustrate their message, it is based on sound psychology and therapeutic techniques. The writing is clear and not condescending; the information offered will help any married couple dealing with passive aggression and rigidity, regardless of religious affiliation. Recommended for all libraries."
——— Dr. Paul Coleman ———
Author of The Complete Idiot's Guide to Intimacy | www.bestintimacy.com
"Married...But Not Engaged informs us with laser-beam accuracy why many nice guys detach from their marriage and what loving wives can do about it. Read this book and discover how to be engaged and married at the same time!."
——— Tom Cheshire ———
President and co-founder of Business Men In Christ, Springfield, IL
"Paul Coughlin has a message from God for men! Paul is the perfect messenger because he is real, honest and God has brought him through life to tell his story of manhood, Biblical manhood in the 21st century. If you want a man who can walk the talk, you want to meet Paul Coughlin. Paul's message will change your life, your families life and all those you touch. Aside from our salvation and growth in Christ, knowing how to be a man, a Christ following man, is our greatest challenge. Paul Coughlin can help you process that life."
Paul is also the author of Married But Not Engaged, and No More Jellyfish, Chickens or Wimps: Raising Secure, Assertive Kids in a Tough World (May 2007). Paul, a former newspaper editor, has been interviewed by the New York Times, C-SPAN, LA Times, Newsweek, Focus on the Family, Today's Christian Woman, and New Man, among other media.
He is the founder of the Good Guy Rebellion, which helps men, especially Christian men across the world become more loving, protective, faithful, and real.
---
«[ back to top ]»
Upcoming Events

Day
Event
Location
—
More Coming Soon
—
Audio / Video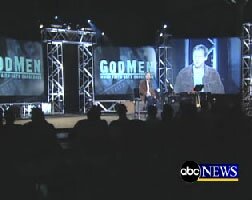 ABC News, GodMen Wants Stronger Christian Men
Nighline Online, The GodMen
FoxNews Video (Download-only)
Premier.tv NMCNG Interview
The Truth About Bullies 700 Club Interview
Interview (Audio Clip)
Related Links
Godmen.com
The Protectors.org
Crosswalk.com, Blog
Crosswalk.com, Official Contributor
Today's Christian Woman Article
91.7 FM, The Dove, Oregon Radio Talk Show
Reluctant Entertainer
Parenting-Related Articles
HomeWord.com, Contributor
man2man express
Effect Radio
Anti-Bullying Articles
The Truth About Bullies
A Faith-Based Response to Adolescent Bullying
No More Jellyfish (Part 1)
Important Articles
Why our happiness is so sad
— by Paul Coughlin
— by Paul Coughlin
— by Paul Coughlin
The Problem with Nice Guys
— Focus on the Family Article
I am fortunate. I got a handle on my fake niceness before it fatally wounded my marriage of 16 years.
For most of my adult life, I gave faux smiles and was dangerously passive for the same reason a squid squirts ink: I wanted to hide—at home where it was difficult to lead, at work where it was hard to excel and at church where I feared being authentic.
Sadly, I see this fake niceness in church more than any other place.
"How are you?" I'll ask another man, whose face is red with stress.
"Doin' great!" Fake toothy smile. "God bless you!" With such men, that's code for "Go away."
I remember those days when I felt it wasn't safe to be real, when I drove life–giving fellowship away and my family suffered. I ensured my life remained small, ordinary and boring.
I call this debilitating condition the Christian Nice Guy Syndrome. It's an emotional and spiritual malady that robs husbands of the power and passion necessary to direct, sacrifice for and provide for their families. Such men are in the grip of two crippling forces I know well: passivity and an incomplete understanding of Jesus. — Read the complete article by Paul Coughlin »
GodMen: PromiseKeepers with an Edge
— Newsweek Article
Oct. 30, 2006 - This wasn't your Daddy's religious revival. Last Saturday morning, 200 Christian men gathered in a downtown warehouse in Nashville for a daylong spiritual extravaganza. Inside, strobe lights flashed, and tracks by the Killers thumped from speakers stacked on either side of a stage. Four large video screens showed clips of karate fights, car chases and "Jackass"-style stunts. Then the music lowered and Christian comedian Brad Stine appeared. With his rat-a-tat delivery and aggressive style, Stine quickly whipped the crowd into a chorus of "Amens!" "A lot of guys out there wouldn't have the balls to be here," he shouted. "Are you ready to be a man? Are you ready to kick ass? Are you ready to grab your sword and say, 'OK family, I'm going to lead you?' Buckle up. This is GodMen!" — Read the complete article by Eileen Finan »
No More Christian Nice Guy
— Today's Christian Woman Article
Paul Coughlin, author, Christian radio talk-show host, and married father of three, describes himself as a "former Christian nice guy." Raised in an abusive home and brought up with a warped, wimpy picture of Jesus, Paul, 39, looked around at his life six years ago and realized he was a frustrated man. "When I brought the fear-based passivity of my youth, combined with the false ideal of Mild Jesus into my marriage, fireworks exploded," Paul explains. "Providing for my family was tough because I was no match for coworkers and bosses who knew they could bowl me over. And I feared passing my emotional void onto my children."
When Paul shared his experiences and observations about passive men, people responded enthusiastically, thanking him for discussing a dynamic that so negatively affected their relationships. Paul also found validation from respected Christian leaders, such as Chuck Swindoll, who wrote: "The passive husband continues to be one of the most common complaints I hear from troubled homes."
Paul realized passivity was impacting countless other families as well. So he staged his own No More Mr. Nice Guy Revolution, waging a fight against passionless living via his website www.ChristianNiceGuy.com and his book No More Christian Nice Guy (Bethany House) last year. TCW recently caught up with Paul to find out how wives, mothers, grandmothers, sisters, and friends can help the Nice Christian Guys in their lives. — Read the complete article by Camerin Courtney »
Bullying in the News
— CNN World News Article
CANBERRA, Australia (Reuters) -- An Australian teenager, who as a young child was bullied at school, on Monday won a record court settlement likely to top A$1 million ($830,000) after a judge said the school failed to step in and stop the abuse.
Benjamin Cox, now 18, was teased from the age of five by an older student at his public school, leaving him suffering a range of psychiatric problems and robbing him of his adolescence, the New South Wales Supreme Court was told.
Judge Carolyn Simpson on Monday ruled the school had "grossly failed" its duty of care to Cox, and she ordered the state to award him more than A$213,000 in damages, as well as weekly earnings for life in a payout set to top A$1 million.
The court was told Cox was regularly teased by an older bully and was beaten, and on one occasion, the bully tried to strangle Cox, who fell to the ground unconscious.
His mother, Angela Cox, reported the bullying to the police and to the school, where one teacher said the such incidents were character building, prompting the bully to make a death threat against Cox.
"Ben was getting scared, like being pushed into the school walls. He had a tooth punched out, he got whipped with a tree branch with welts across his back," Angela Cox told Australian radio outside the court.
She said the bullying was so bad, her son was too afraid to attend high school and was unable to finish his education.
Australian Prime Minister John Howard on Monday announced plans to give teachers and school principals more powers to crack down on school bullies.
Copyright 2007 Reuters. All rights reserved.